Our 2022 Oyster Roast was a rousing success! Thank you to everyone who made it out to support EIOLT, to Calvert Huffines and all our amazing sponsors who helped make it a reality, to Jamie Westendorff and Ella & Ollies for providing the delicious food and oysters, and of course a big thank you to Mark & Tucker Crawford for hosting us at Sand Creek Farm once again!
Check out the below photo gallery from the Oyster Roast: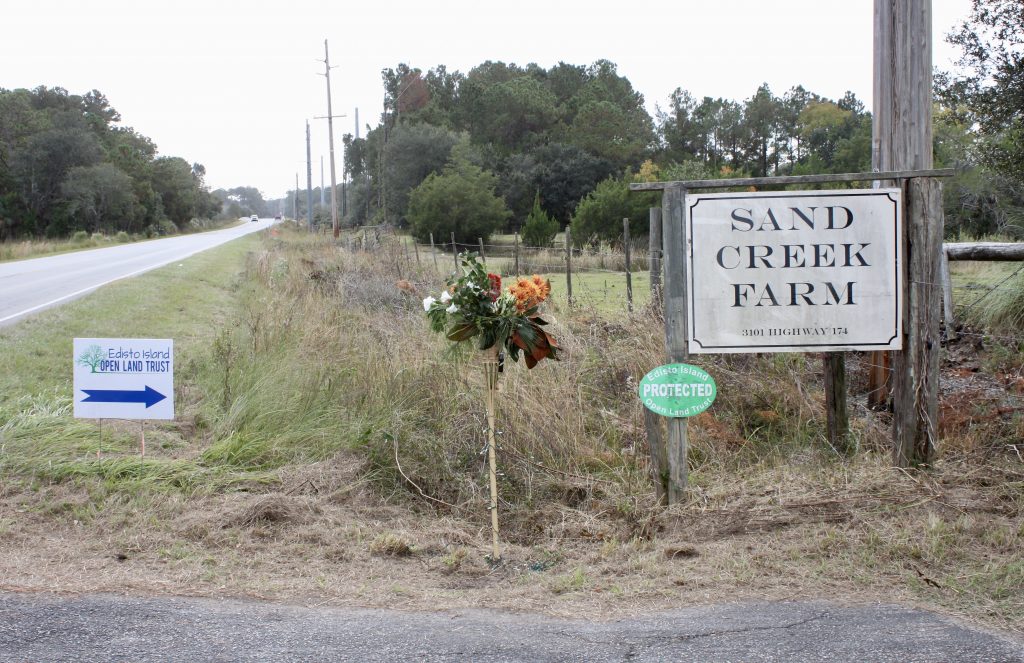 The Edisto Island Open Land Trust has received a $171,512 grant from the Department of Interior, National Park Service (NPS) funded through the Historic Preservation Fund and African American Civil Rights grant program, for the restoration of the interior of the Hutchinson House. 53 of these grants totaling $15,035,000 were awarded for projects across the United States. With these funds, organizations and agencies conserve significant U.S. cultural and historic resources, which illustrate, interpret, and are associated with the great events, ideas, and individuals that contribute to our nation's history and culture.
"This competitive grant program is just one of the many ways the National Park Service is working to preserve and interpret the lesser-known facets of our nation's shared history," said NPS Deputy Director Shawn Benge. "From physical restoration projects to surveys, documentation, and education, this years' grant funds will help many of our State, Tribal, local, and non-profit partners advance their preservation goals."
The Hutchinson House represents one of the oldest houses on Edisto identified with the African American community after the Civil War. In 1885, Henry Hutchinson married Rosa Swinton, and according to oral tradition, he built what is now known as the Hutchinson House as a wedding gift for her. He constructed the house with his half-brother Jack Miller and their uncle John Pearson Hutchinson, a self-taught architect who built Central Baptist Church in Charleston. Henry acquired the property the house is built on from his father, James "Jim" Hutchinson.
Jim Hutchinson was born into slavery at Peter's Point Plantation on Edisto Island. After serving in the Union Navy during the Civil War, Jim became a political activist. He served as the Republican precinct chairman on Edisto Island, facilitating the election of Black legislators and registering Black voters in large numbers. He perpetually advocated for the economic empowerment and fair treatment of African Americans while promoting Black land ownership. Jim thrust himself into civil rights activism during a very difficult transitional period in our history, and it may have cost him his life. He was murdered on the Fourth of July, 1885, by a white man from Wadmalaw. Many people at that time believed Jim was murdered because of his advocacy for Black equality.
The Hutchinson House was listed on the National Register of Historic Places in 1987, and today, stands as an important example of the strength and resilience of an African American family on Edisto Island. The house represents the high level of craftsmanship and design that African Americans were able to achieve in their own homes once out from under White suppression. After Henry and Rosa passed away, two more generations of the Hutchinson family lived in the house and the property remained under their ownership from 1875 to 2016. It is a testament to the Hutchinson family's success and represents the perseverance of formerly enslaved people in the decades following the Civil War.
Once the restoration of the Hutchinson House is complete, it will be open to the public as a museum and heritage center. Funds are still being raised to complete the replication of the three-sided porches and rear room that was original to the house. To find out more about this important heritage project, you can visit the EIOLT website at www.edisto.org. For more information on this project please contact EIOLT at 843-869-9004. For questions regarding the Historic Preservation Fund and African American Civil Rights grant program, or to comment on this or any other proposed Historic Preservation Fund grant project, please contact the State, Tribal, Local, Plans & Grants Division, National Park Service, at 202-354-2020 or stlpg@nps.gov.
Conversations in the Field, Episode 4 is ready to go! Enjoy this informative new video of Melinda Hare, Education Outreach Coordinator, sitting down with well-known ornithologist, Dr. Sid Gauthreaux, for a fascinating discussion about migratory birds.
Dr. Gauthreaux explains why birds migrate, their natural migration cycles and patterns and recent changes in those migratory patterns as they relate to climate change and man made hazards. Sid also discusses his pioneering research using radar to track and study bird migrations around the world. This is a Conversation you don't want to miss!
We're happy to report that the National Trust for Historic Preservation has featured the Hutchinson House on the cover of their most recent Winter, 2021 issue of Preservation Magazine.
As you may have heard, the Asian Long-horned Beetle (Anoplophora glabripennis) was recently discovered for the first time in South Carolina. The species is a native to Southeast Asia. It first appeared in the United States in 1996 in Brooklyn, New York followed by Illinois in 1998, New Jersey in 2002, Massachusetts in 2008, and Ohio in 2011. In June of 2020 it was discovered in Hollywood, SC. Biologists suspect the infestation has been ongoing for five or more years. So far, more than 2,000 trees have been confirmed to be affected in Ravenel, Hollywood, Meggett, and Johns Island. The infestation appears to be centered on Rantowles and Stono Ferry, encompassing more than a 3-mile radius.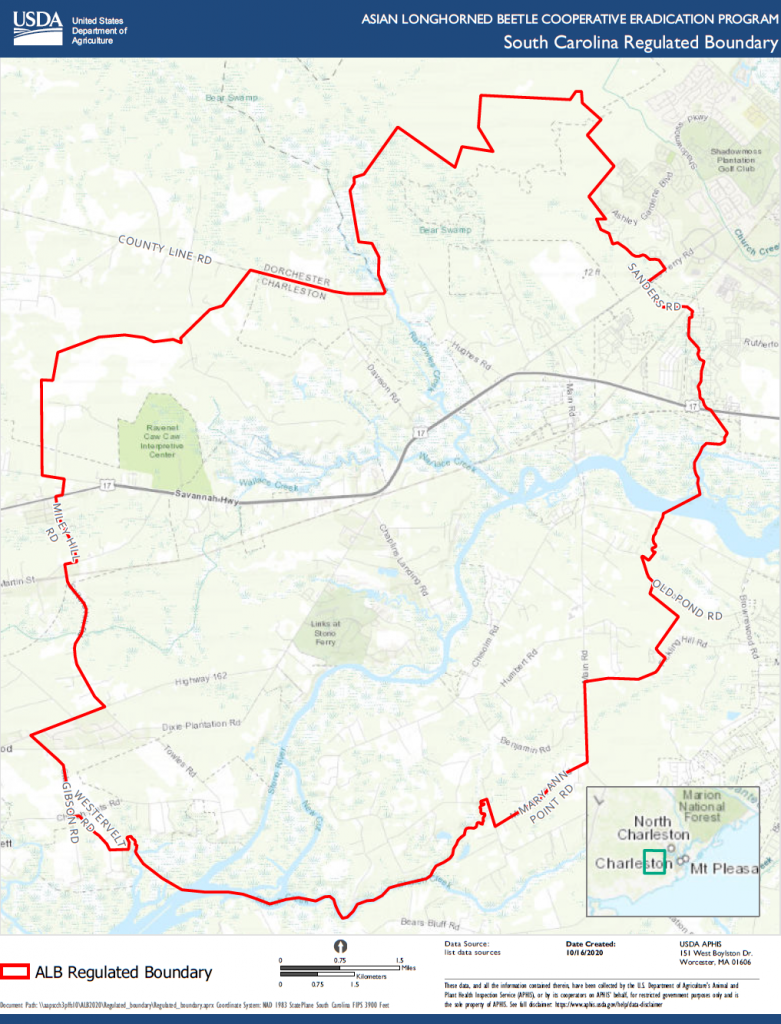 The Asian Long-horned Beetle is an invasive species of insect. Its larvae feed on the wood of native trees, leading to the structural collapse and eventual death of those trees. As a non-native exotic, the beetle has few natural controls and the trees lack sufficient defenses to fight the beetles. This can result in the beetles spreading unchecked through the ecosystem, destroying forests and altering habitats permanently. This potential for uncontrolled growth and ecological damage is what defines the species as an invasive and what makes its discovery so alarming.
The primary larval host plant for Asian Long-horned Beetles here in the Lowcountry is by far Red Maple (Acer rubrum). Red Maple is a native tree that is extremely common in our forested wetlands, bottomlands, and river floodplains. Red Maple is also used extensively in suburban landscaping. The beetle will feed on other tree species as well including Ash, Willow, Elm, Birch, Cottonwood, Sycamore, and possibly Tupelo. They are not known to infect Oaks or Conifers, including Pine. Biologists fear that the beetles will escape into the remote bottomland and floodplain forests surrounding Ravenel. Here they will be much more difficult to control and they may make the jump into infesting Tupelos. The uncontrolled destruction of the Maples and Tupelos of our bottomland forests would be devastating for one of the most critical ecosystems here in the coastal plain of South Carolina.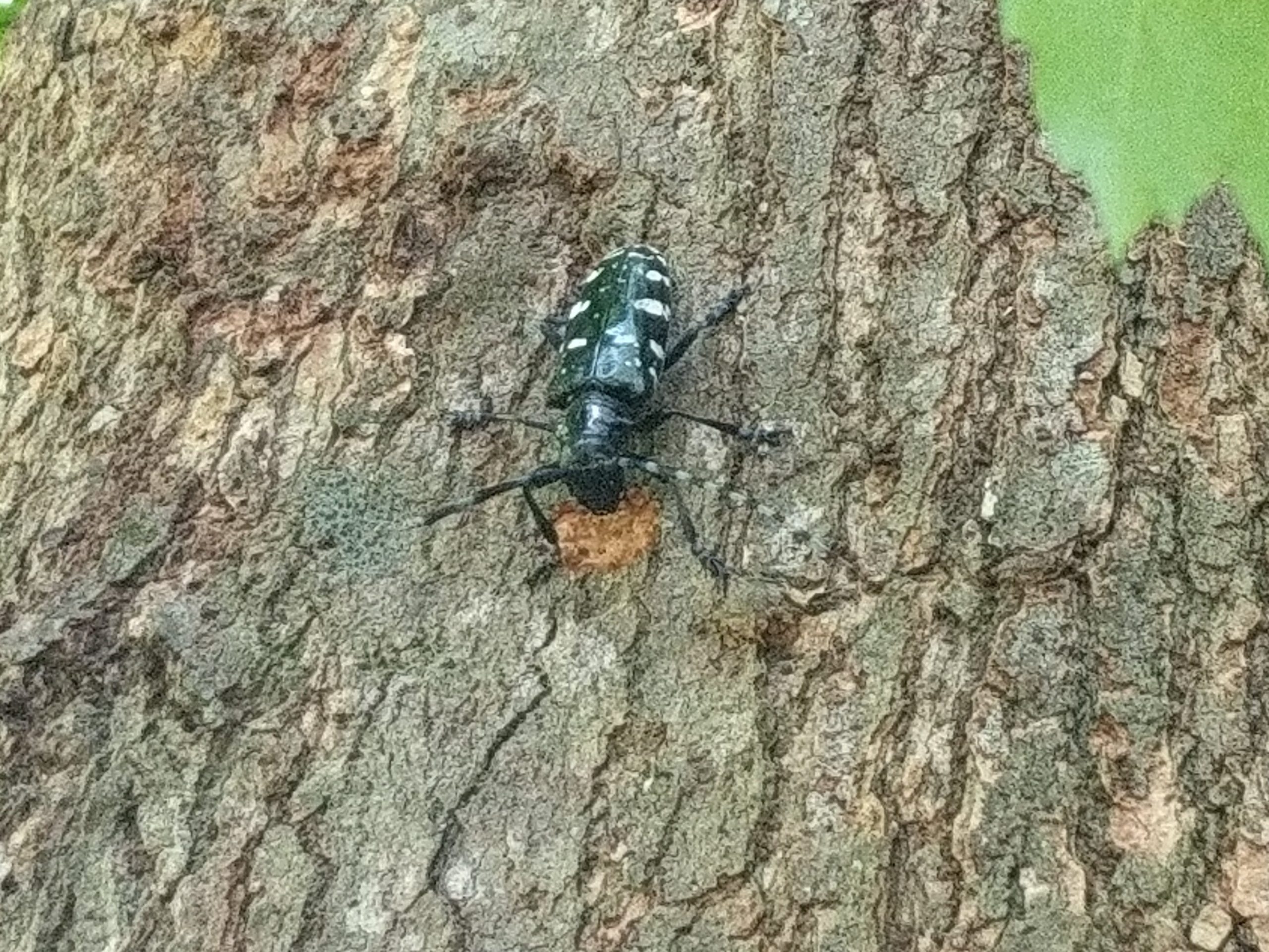 The adult beetles are metallic blue-black, covered with white spots, and an inch or more in body length. They are quite large and have black and white banded antennae longer than their body. Female beetles leave behind distinct marks on the bark of trees when laying their eggs. Females chew a shallow 3/4 inch scar in the tree's bark, nicknamed a "cigar burn", and lay an egg inside. The newly hatched larvae first feed near the surface of the trunk before moving into the heart of the tree. Wood of infected trees can be identified by the finger-width tunnels the larvae leave behind inside the wood. Adults emerge in summer, leaving a deep and perfectly circular half-inch hole in the side of the trunk.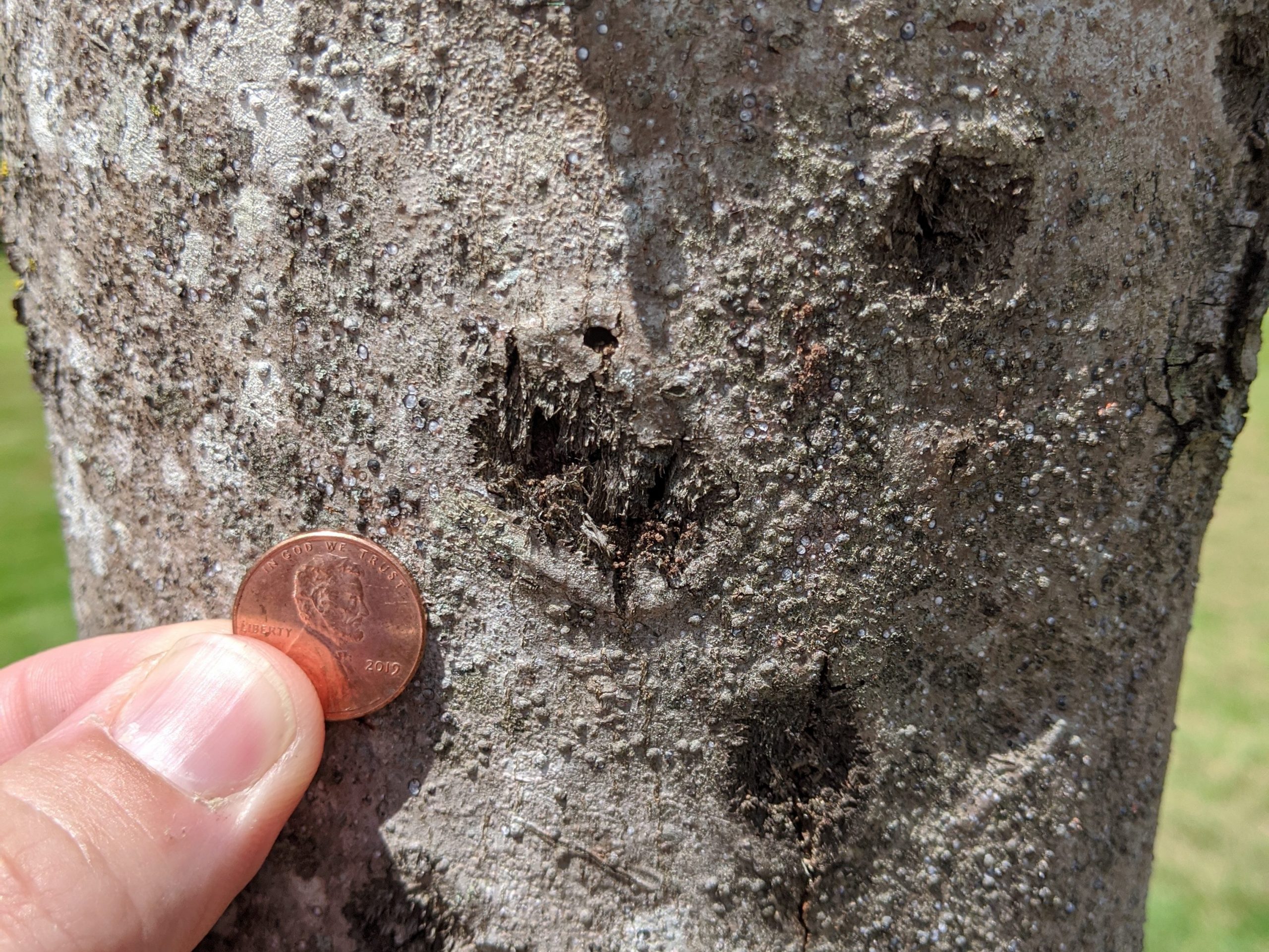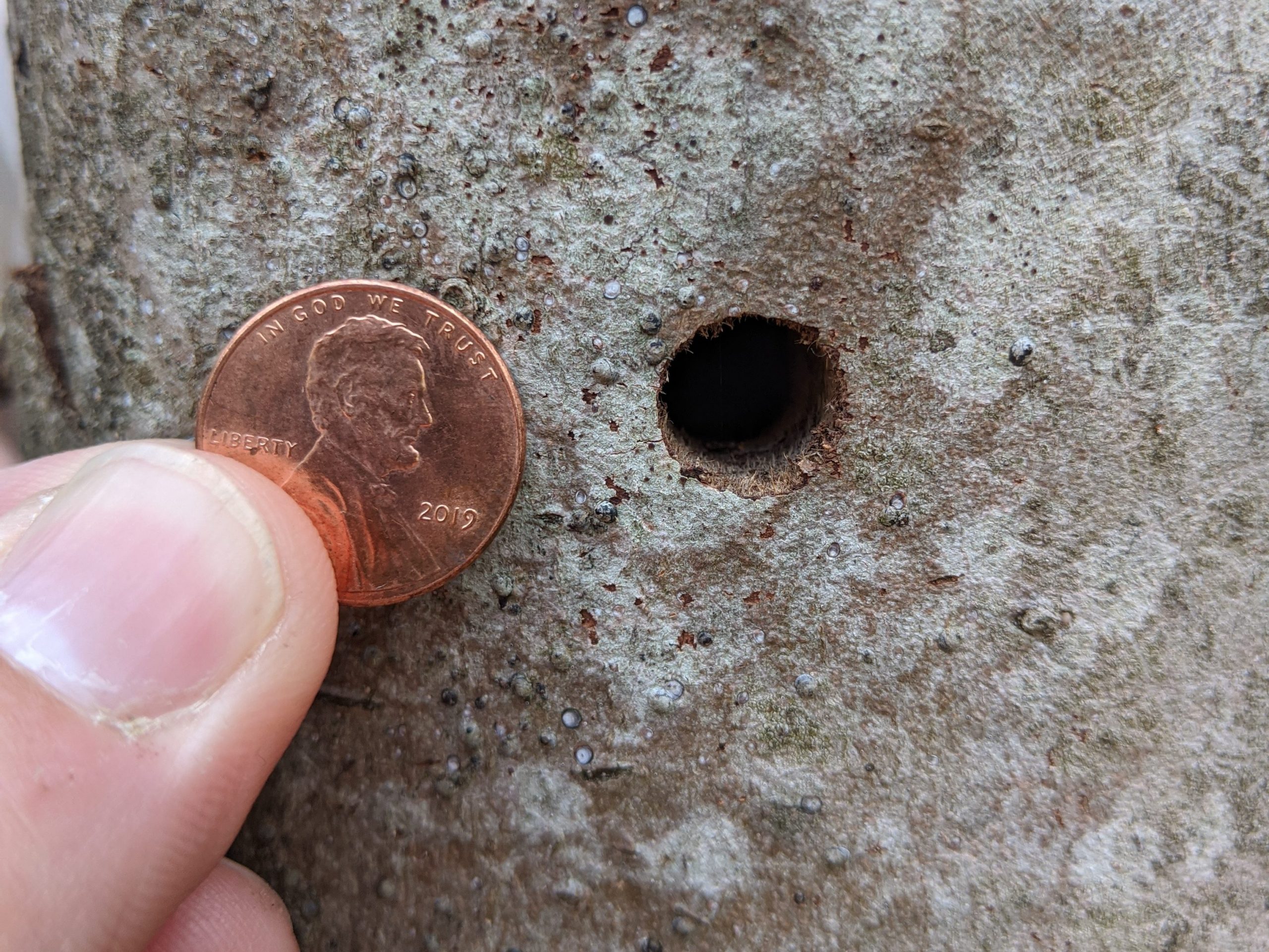 However, all is not lost! The USDA, Clemson University, College of Charleston, and the SC Department of Natural Resources are making a serious and concerted effort to eradicate this dangerously invasive beetle from the South Carolina Lowcountry for good. The College of Charleston's Stono Preserve was one of the first confirmed sights of Asian Long-horned Beetle in the state and they are working to facilitate the USDA's establishment of a quarantine headquarters on the property. The USDA and Clemson University are jointly working to assess the scope of the infection and are drafting quarantine protocols and regulations for the area. SCDNR is proactively surveying all Red Maples on their 690-acre Dungannon Heritage Preserve, which is located in the heart of the infestation. The USDA was previously successful in eradicating the Asian Long-horned Beetle from New Jersey, Illinois, and much of New York and Massachusetts. There is still a good chance we can nip this problem in the bud before it gets out of control, especially with your help.
You too can help control the spread of the Asian Long-horned Beetle. Together we can stop it from ravaging our native ecosystems! First and foremost, if you see an adult beetle or the distinct marks they leave behind on host trees, report it to the USDA's APHIS or Clemson Extension immediately! (Contact info below.) They're the experts on handling this pest and they'll know what to do. Other than that, the best thing you can do is not transport firewood or woody yard debris out of or within the infected area. Asian Long-horned Beetle larvae may be living inside of the wood and, if brought out of the quarantine area, can emerge to infect new areas of our state. The adult beetles only emerge during summer, do not live very long, and don't move very far during that time. By not transporting wood within the infested area, we can drastically reduce the chances of live beetles escaping quarantine and destroying habitat in the surrounding coastal communities, such as Edisto Island.
Further reading on the Asian Long-horned Beetle:
USDA: THE LATEST NEWS ON THE ASIAN LONG-HORNED BEETLE
CLEMSON: MORE INFORMATION ON THE BEETLES IN SOUTH CAROLINA
Where to Report Asian Long-horned Beetle sightings:
Call the USDA at: (866) 702-9938
Contact Clemson: (864) 646-2140 or invasives@clemson.edu
---
Article by: Tom Austin, Land Protection Specialist for EIOLT
Photos by: Steven Long, Clemson University, Dept. of Plant Industry
Greetings from the EIOLT Education Outreach Committee! We have another learning opportunity for your presented by one of our local experts in the field.
In our third episode of Conversations in the Field, Melinda Hare is joined by local biologist and EIOLT's very own Land Protection Specialist, Tom Austin. Tom explains the importance of grassland ecosystems to agriculture and the environment here on Edisto Island and in the surrounding Lowcountry. Tom also shines a light on what EIOLT is doing to conserve the gorgeous wildflower meadows at the Hutchinson House.
We hope you enjoy this informative presentation on a topic seldom covered.
Greetings from the EIOLT Education Outreach Committee! It's time for another learning opportunity with one of our local experts in the field. In our second edition of Conversations in the Field, join EIOLT Board member and Master Naturalist, Lindsey Young, as she takes us on a special kayak trip through Big Bay Creek and the surrounding creeks on Edisto. This is your chance to learn about the variety of shorebirds that are often seen around our waterways as well as one of our local favorites – the Atlantic bottlenose dolphin.

If you've been stuck inside and want to experience the zen of a peaceful paddle on the water, this conversation about creek life is for you!
Greetings from the EIOLT Education Outreach Committee! We have been busy creating some new online learning opportunities just for you. This is the launch of our series, "Conversations In The Field". We will be bringing you experts in a variety of fields who will discuss environmental and conservation topics.
Our first episode features Harleston Towles, a local farmer here on Edisto Island. Many of you requested this field trip, which we have had to postpone due to COVID-19. So instead we are taking you virtually to the field to see his farming operation and the beginnings of your Twenty Bag! Harleston incorporates sustainable and organic farming practices into his farm, Rooting Down Farms. These practices allow him to grow delicious, fresh local vegetables without harming the local environment, over-taxing the soil, or sacrificing the quality of the produce.