Audubon Society Christmas Bird Count
The Christmas Bird Count is an annual effort across the Western Hemisphere (primarily the United States) to survey bird populations during a certain 3 week window. The count was started in 1900 and continues to this day. The effort is now administered by the Audubon Society. As there's generally not much migratory bird movement during this time, the Christmas Bird Count provides a year to year snapshot of bird populations in North America. From the long-term data, trends can be extrapolated with larger scale analysis. The count is geographically divided into 15 mile wide count circles. Each circle is surveyed by a team of volunteers with the objective of accurately counting as many individual birds within that circle in a given 24 hour period. Each circle is split by the volunteers into regions and each region is generally assigned to a party leader. The party leaders are in charge of coordinating each region, collecting the total count for their region(s), and reporting that data back to the compiler after the count. The compiler collects all that data together from their circle and reports it to Audubon. Audubon compiles the data from all the circles into an annual report.
---
Edisto Island Christmas Bird Count
The Edisto Island South Carolina Christmas Bird Count (EICBC) was piloted January 9th – 19th, 2022 by EIOLT staff and volunteers. The EICBC held its inaugural first count on January 2, 2023 for the 123rd Christmas Bird Count. Due to how the Sea Islands and ACE Basin circles were already positioned, the EICBC circle ("EISC" in Audubon's records) only covers the southern half of Edisto Island and includes the following locations: Botany Bay HP/WMA, St. Helena Sound HP/WMA, the Edisto Beach State Park, all of the Town of Edisto Beach, and the Hutchinson House.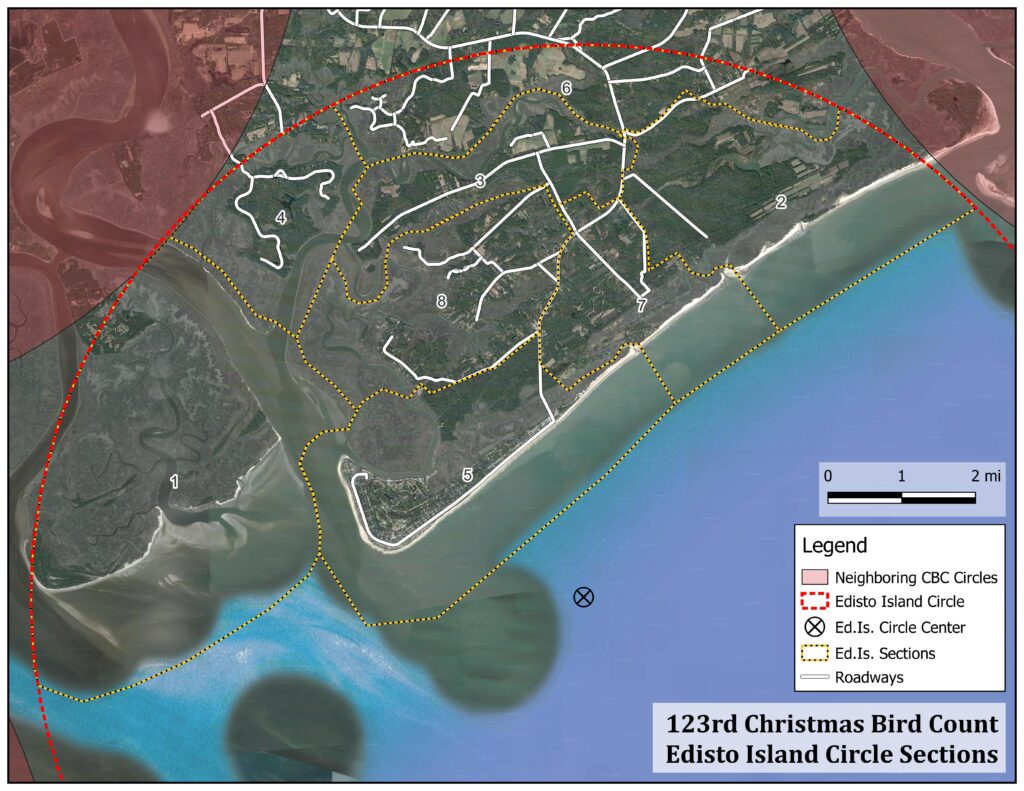 ---
Email Tom Austin at Land@Edisto.org if you are interested in volunteering to participate in the Edisto Island Christmas Bird Count. Experienced birders welcome!
(The Christmas Bird Count is an all-day ornithological survey suitable for bird watchers of intermediate, or greater, experience levels. Volunteers are expected to be able to spend 9+ hours in the field, in potentially freezing weather, identifying and collecting data on birds on their own, or in teams, to a pre-specified quality standard. It is an event generally not suitable for children nor beginner bird watchers.)
Past Count Reports
2022/23 – 123rd CBC – Year one